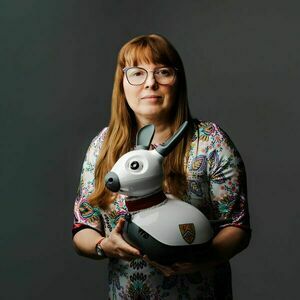 Kerstin Dautenhahn
Special guest
Since August 2018 Kerstin Dautenhahn has been Canada 150 Research Chair in Intelligent Robotics at University of Waterloo in Ontario, Canada. She is a member of the Department of Electrical and Computer Engineering. She is cross-appointed with the David R. Cheriton School of Computer Science, the Department of Mechanical and Mechatronics Engineering, and the Department of Systems Design Engineering at University of Waterloo. She is Visiting Professor at the University of Hertfordshire, UK. In Waterloo she is director of Social and Intelligent Robotics Research Laboratory (SIRRL)). The main areas of her research are Human-Robot Interaction, Social Robotics, Assistive Technology and Health Technologies. She is Editor in Chief (jointly with Prof. Angelo Cangelosi - University of Manchester, UK) of the Journal Interaction Studies- Social Behaviour and Communication in Biological and Artificial Systems published by John Benjamins Publishing Company, Editorial Board Member of Adaptive Behavior, Sage Publications, Associate Editor of the International Journal of Social Robotics, published by Springer, and Associate Editor of IEEE Transactions on Cognitive and Developmental Systems. She is an Editor of the book series Advances in Interaction Studies, published by John Benjamins Publishing Company. Prof. Dautenhahn is on the Advisory Board of the journal AI and Society (Springer). She is an IEEE Fellow, member of ACM, and a Lifelong Fellow of AISB, as well as a member of the Executive Board of the International Foundation for Responsible Robotics. Since 2006 she has been part of the Standing Steering Committee of the IEEE conference RO-MAN (Human and Robot Interactive Communication).
Kerstin Dautenhahn has been a guest on 1 episode.
November 1st, 2023 | 49 mins 2 secs

ai, artificial life, assistive technology, chatgpt, emotions, happiness, human-robot interaction, kerstin dautenhahn, llm, meaning, philosophy, psychology, purpose, reasoning, robot-assisted interventions, robotics, robotiquette, social anxiety, social robots, social science, well being, wisdom, wise robots

Can we create wise robots? Kerstin Dautenhahn joins Igor and Charles to dive into the intriguing world of social robots, the finer points of "Robotiquette," and the potential role such robots can play in supporting therapeutic treatments. Igor reflects on the limits of robot-based wisdom, Kerstin reveals the potential of Generative AI like ChatGPT to generate false information about her own professional identity, and Charles considers the perils of socially awkward machines. Welcome to Episode 58.