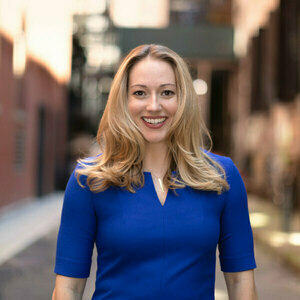 Tessa West
Special guest
Tessa West is a Professor of Psychology at New York University and a leading expert in the science of interpersonal communication. Her research focuses on questions such as: How can we improve communication across cultural and national divides, and what hurdles do we need to overcome to make hybrid communication work?
Tessa received her PhD from the University of Connecticut and has published over 70 academic articles in psychology's most prestigious journals, including Proceedings of the National Academy of Sciences of the United States of America, Psychological Science, Journal of Experimental Social Psychology, and Journal of Personality and Social Psychology. She has received multiple grants from the National Science Foundation and the National Institutes of Health. Tessa has also received several career awards, including the early career award from the Foundation for Personality and Social Psychology, and the Theoretical Innovation Prize from the Foundation for Personality and Social Psychology among others.
Tessa's work has been covered by Scientific American, the New York Times, ABC World News, TIME, the Huffington Post, The Guardian, The Globe and Mail, Bloomberg, Strategy and Business, and the US Supreme Court. She has appeared on the Nightly Show with Larry Wilmore, David McRaney's live "You are not so smart" podcast, and the WNYC. She is a regular contributor to the Wall Street Journal.
Tessa has worked with and delivered keynotes for Capital Group, Splunk, Make-A-Wish Foundation, Bristol-Myer Squibb, CoreLogic, Capital One, KPMG, Premise Health, HPE, Gilead, Pfizer, Relativity, Survey Monkey and more, on topics related to improving diversity inclusion practices, fostering better leadership, and improving communication more generally. She is the author of the upcoming book "Jerks at Work" on coping with toxic colleagues, coming out January 2022.
Photo Credit: Blaise Heyward Studio
Tessa West has been a guest on 1 episode.
November 15th, 2022 | 57 mins 48 secs

affect contagion, emotions, happiness, jerks at work, meaning, new york university, philosophy, physiological synchrony, psychology, purpose, reasoning, social science, tessa west, well being, wendy berry mendes, wisdom

How do we respond wisely to foolish behaviour in the workplace? Tessa West joins Igor and Charles to talk about the most common types of 'jerks at work' - including the bulldozer, the credit stealer, and the gaslighter, discussing what drives such unhelpful behaviour, and how best to deal with it. Igor explores the different ways we can respond to uncertainty in the workplace, Tessa suggests that we're surprisingly nice to moral violators, and Charles learns the importance of building in 'affect contagion buffers' into his day! Welcome to Episode 51.