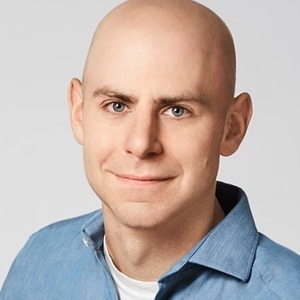 Adam Grant
Special guest
Adam Grant has been Wharton's top-rated professor for 7 straight years. He is a leading expert on how we can find motivation and meaning, and live more generous and creative lives. He has been recognized as one of the world's 10 most influential management thinkers and Fortune's 40 under 40.
He is the author of four New York Times bestselling books that have sold over two million copies and been translated into 35 languages: Give and Take, Originals, Option B, and Power Moves. His books have been named among the year's best by Amazon, Apple, the Financial Times, and the Wall Street Journal, and praised by J.J. Abrams, Richard Branson, Bill and Melinda Gates, Malcolm Gladwell, and Malala Yousafzai.
Adam is the host of WorkLife, a chart-topping TED original podcast. His TED talks on original thinkers and givers and takers have been viewed more than 18 million times. He received a standing ovation at TED in 2016 and was voted the audience's favorite speaker at The Nantucket Project. His speaking and consulting clients include Google, the NBA, and the Gates Foundation. He writes on work and psychology for the New York Times, serves on the Defense Innovation Board at the Pentagon, and has been honored as a Young Global Leader by the World Economic Forum. He has more than 3 million followers on social media and features new insights in his free monthly newsletter, GRANTED.
Adam was profiled in The New York Times Magazine cover story, Is giving the secret to getting ahead? He was tenured at Wharton while still in his twenties, and has received the Excellence in Teaching Award for every class that he has taught. He is the founder and host of the [email protected] speaker series, and co-director of Wharton People Analytics. He curates the Next Big Idea Club along with Susan Cain, Malcolm Gladwell, and Dan Pink, handpicking two new books each quarter for subscribers and donating 100% of profits to provide books for children in under-resourced communities. He is also the cofounder of Givitas, a knowledge collaboration platform that makes it easy to give and receive help in five minutes a day, and an angel investor in startups in HR and culture, technology, and consumer products. He and his wife Allison have a children's picture book on generosity, The Gift Inside the Box, coming out this fall.
Adam earned his Ph.D. in organizational psychology from the University of Michigan, completing it in less than three years, and his B.A. from Harvard University, magna cum laude with highest honors and Phi Beta Kappa honors. He has earned awards for distinguished scholarly achievement from the Academy of Management, the American Psychological Association, and the National Science Foundation. His pioneering research has increased performance and reduced burnout among engineers, teachers, and salespeople, and motivated safety behaviors among doctors, nurses, and lifeguards. He is a former magician and Junior Olympic springboard diver.
Adam Grant has been a guest on 1 episode.
July 30th, 2019 | 30 mins 42 secs

adam grant, attention management, cognitive entrenchment, culture, culture carriers, culture change, give & take, giving culture, nobel prize, non-conformity, organizational psychology, originals, psychology, social psychology, social responsibility, wisdom

Can an individual really change a culture? Adam Grant joins Igor and Charles to discuss cultures of non-conformity and giving in the workplace, the perils of cognitive entrenchment, the critical role of culture carriers, and why we should be managing our attention rather than our time. Igor delights in learning of the astoundingly high frequency of dancers among Nobel prize winners, Adam suggests that moral arguments still trump bottom-line arguments in the boardroom, and Charles learns that the secret route to culture-change might be found in asking your boss for advice. Welcome to Episode 19.